One of the most Compact Vibrating Fork ever
Our latest vibrating fork is here. It more compact, has better amplitude is still suitable for hygienic applications.
---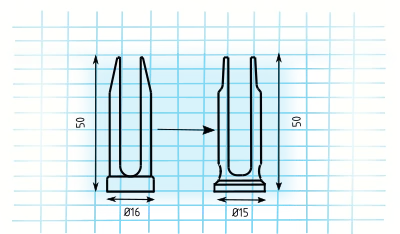 How our new compact vibrating fork ensures hygienic mounting
One of our customers' came up with the requirement to replace another make's compact capacitance type point level switch with our vibrating forks, since our customer could not change the mounting socket at site, we initiated a design project to make our EHEDG Class I approved hygienic vibrating fork still more compact.
Hygiene is important for food and pharamaceutical industries. Flush mounted level sensors offer convenience in installation while ensuring hygiene and easy to clean-in-place.
Compatible mounting with point level compact sensor

PEEK seal ensures that active ingredients do not come into contact with mounting threads. Clean threads help to reduce the risk of contamination.
Important Aspects of Design Considered for the new design
An interdisciplinary design approach where different engineering disciplines are fundamentally aware of the design challenges has helped us make such improvements effectively.
The frequency change in media of different viscosity at different switch points
The harmonic octaves in different vibrating modes of the tuning fork(and their interplay)
Overall improvement in amplitude of vibrating
Design Approaches: Interdisciplinary Design
FEM simulations were used to analyze several different design candidates
3D Metal Printing of the tuning forks helped in evaluating the performance characteristic of a device
Tuning and re-design our electronics to accommodate the resonance shift of the device
Sapcon Instrument's Vibrating Forks Solutions
Related
---