Delivering Value with Research & Development
Sapcon Instruments invests 10% towards Research and Development annually. The continuous development in process industries challenges us to design level instruments which stay relevant to our end user's requirement. R&D delivers value in terms of being able to develop new solutions to problems faced by our end users. Engagement with our end users helps us build collective confidence in our developed solution.
R&D Activities
Research and Development have been a part of Sapcon since its inception in 1983, it has broadly evolved as follows:
Quality & Process Improvements
New Product Development: New product development is essentially risky. Our ongoing development in new technologies is about making products that have never been developed in India. Close to forty years of stabilty and growth at Sapcon has helped back its R&D ambitions financially. Commercial success of R&D projects has subsequently given us confidence in increasing our investment.
Upgrading Products: Products have a life cycle, while the overall life of product can last several decades, essential upgrades are necessary for the product to stay relavant. Upgrades take into account our changed end user expectations and help deliver latest features allowed by the advances in technology.
Quality & Process Improvement: Process Improvements are game changing reforms that can have dramatic results. Saving on process time, enhancing performance and quality help us prepare for scaling up as we grow.
Overview of Expertise in R&D
R&D expertise has been acquired as challenges have come our way, broadly we categorize our experties as follows:
Analog & Digital Circuit Design
We well-equipped analog & digital devices like Spectrum Analyzer, Digital Storage Oscilloscope, Mixed Signal Oscilloscope, Digital Phosphor Oscilloscope to inspect signals.In house expertise in circuit design and PCB design makes us strong self-dependent ecosystem. Experience in certifications for EMI/EMC and intrinsic safety has greatly reduced our time to market.
Mechanical Design
Along with good design and protyping facilities, Sapcon has a dedicated set of suppliers who help us get our design ideas to market seamlessly. Our mechanical design team maintains designs for more than 1000 parts, with detailed engineering drawings. We have an impressive 400 thousand assemblies which are being currently maintained. Our comfort with FEM(Finite Element Method) for design validation, automation of manufacturing processes and willingness to learn has made us flexible without compromising on quality.
Firmware Development
Firmware is the new heart of instrumentation devices. Sapcon Instruments has been shipping devices with firmware for the last 25 years. Analysing data and implementing a reliable firmware is at the core of product development. At Sapcon Instruments we have made consistant efforts to use best practices for firmware development. Moving to newer micro-controller architechtures, making our firmware portable and modular has been crucial in reducing our time to market.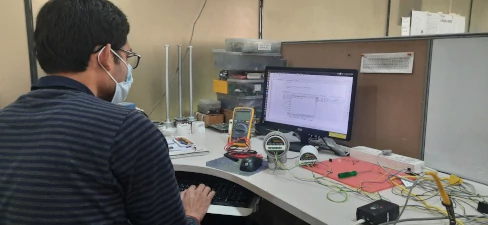 Desktop and Mobile Apps
Field instruments need supporting desktop and mobile applications for easy configuration. Sapcon Instruments has developed reliable applications to support real time remote support. Our applications are cross platform and can run on popular operating systems including GNU/Linux and on smartphones.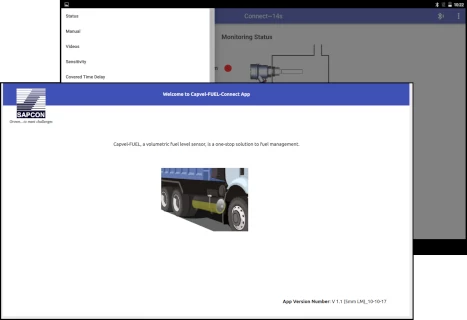 Process Improvement
Our processes have always reflected a strong sense of what our customers have expected from us Quality and Fast Deliveries:Accordingly, we have made our production teams comfortable with change and process improvements. We have strived to implement sustainable and incremental improvements to our processes. Aspects from "Theory of Constraints" have found a resonance with how we have chosen to conduct our business. Our smooth ERP implementation is a success story referenced by our ERP vendors https://erpnext.com/customer-stories/sapcon-instruments and bears a testament to our ability to reform ourselves.

People
The strength of any Research and Development department is its people. Our young 15 member team with qualifications from recognized universities like Columbia University, RGPV, DAVV and Virginia Tech are helping Sapcon Instruments with making the most out of new opportunities. Our monthly review systems and interdisciplinary approach to development helps our people acquire holisitic knowledge about our products and their end-use. Feedback from our customer support team serve as very important inputs for our development plans.