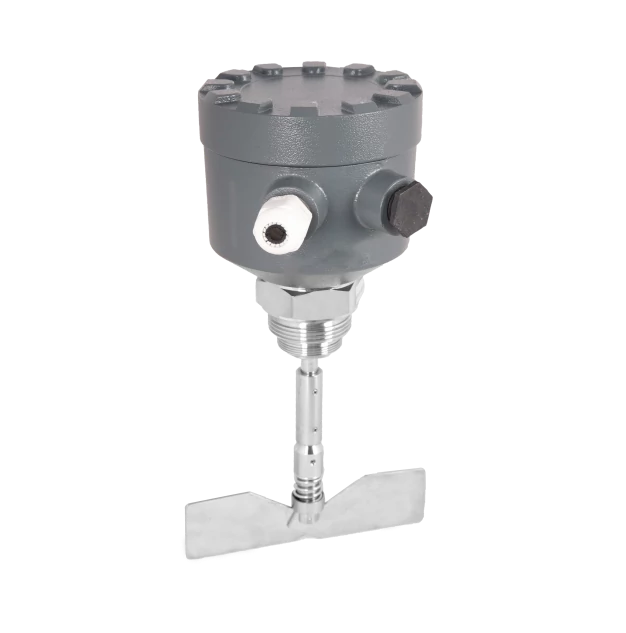 Orbit: Rotating Paddle Level Sensor for Solids
Item Code: RP
Rotary paddle type level switch is a level measuring instrument used to detect solid application media. These types of rotating paddle is suitable for level detection in Storage Tanks, Bin Hoppers, and containers to avoid overspill and material loss.
Universal Power Supply: 90-265 V AC & 24-55 V DC
Application Temperature Range : up to 250° C
Outputs: DPDT Relay, SPDT Relay
Rope probe available for longer lengths
Adjustable RPM and adjustable switching sensitivity
Motor fault indication
Foldable paddle mechanism for ease of installation
2 potential free contacts with adjustable time delay
Operating Principle
Rotary paddle type level switch is based on electromagnetic principle. The paddle switch works when an electric motor drives the shaft connected to the rotating paddle. The twin blades of rotating paddle rotate freely when uncovered. The electric motor is mounted on a sliding-fit rotating disc, which in-turn is connected to a spring. When rotating freely, the spring is relaxed, as the application media covers the blades of the rotating paddle level switch, the torque requirement increases, which extends spring. The spring extension is detected by position sensors, thus level of application media is detected. The power to the motor turned off. Subsequently, when the rotating paddle level sensor is uncovered, the spring ensures the motor is back to the position where motor can be powered on.
Configurations
Rotary paddle level switches can be configured based on the orientation and installation requirement of an application. Parameters such as the output, installation space, sensitivity and process temperature require various configurations. About 300 differrent configurations are available for rotary paddle level switch. Some major configuration options have been mentioned below: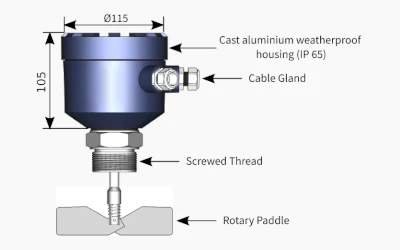 RDP: Shorter probe length range between: 110mm, 150mm, 175 to 500mm and 501 to 3000mm where rod probe is appropriate.

ROP: Rope probe is accessible when the probe length of level sensor ranges between: 1001 to 3000mm (≥ 1meter).

Top Mount (TM): Top mounting of rotary paddle level sensor is advantageous when probe length is ≥ 501mm.

Agnostic Mount (AM): This mounting of paddle switch is recommended when probe length is ≤ 500mm.
Housing

RB: Cast Aluminium weatherproof housing (IP65) is widely used.

FP2A: A weatherproof & flameproof housing(IP 66) of rotary paddle level switch is efficiently protect the electronics of level instrument from any explosion under operational conditions.
It has a wide range AC-DC( 90-265 V AC & 24-55 DC) power supply which is very rare in the industry.
Applications
Grain processing is necessary to perform cleaning operations and also to remove an array of impurities such as broken pieces from the grains. The management and handling procedure include grain elevators, feed mills, flour mills, rice mills, dust pelletizing type plants contains longer size hoppers and containers.
To deal with these types of conditions, rotary type level switches with rope probe versions can be used that are suitable for longer-length tanks and hoppers.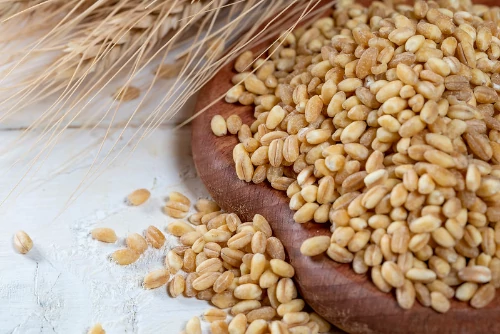 Soybean, being an important element that added nutritional value and benefits to the health. Additionally, soybean oil is also consumed on daily basis to prepare meals. The production of soybean industries includes various operations that require highly sensitive level instruments to detect the lighter material like husk.
The rotary paddle level switch is integrated with a spring-type sensitivity arrangement to facilitate the selection of different sensitivity values as per the application media density.
Plastic Pipes
The reason behind the sudden growth of the plastic pipes market is the requirement of pipelines in construction sites and wastewater management. The manufacturing process of these pipes undergoes an automated operation that does not afford to stop at any point of time.
The rotary paddle level switch is unified with the fault detection technique. The paddle switch has a motor fault indication which continuously checks the condition of the motor and indicates when the motor stops working.
Download Section