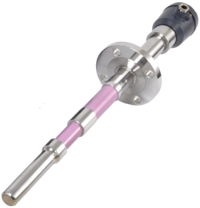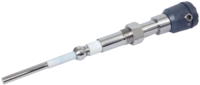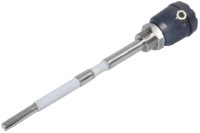 SLA: RF Admittance Type Level Sensor with Buildup immunity
Item Code: SLA_D
Admittance Level Limit Switch (Use media such as Low dielectric media e.g. cement, fly ash, clinkers, ESP hoppers)
Application Temperature Range: Up to 1000°C
Universal Power Supply: 18 to 55 V DC and 90 to 265 V AC at 50Hz
Remotely mounted electronics upto 15 m
Coating Immunity specially for sticky and viscous media
Output: 1/2 SPDT Relay
Available in Part & Full PTFE Insulation
Certifications: Flame Proof IIA, IIB & IP65 Housing
Available in rod & rope type
Offer
Principle
The probe comprises of sense, shield and ground electrodes electrically isolated from the metallic tank by means of suitable insulators. The sense electrodes and the vessel wall serve as the two electrodes of an imperfect capacitor with the service material as the dielectric. A change in material level causes a change in admittance of this imperfect tank capacitors.
Benefits
High durability and system reliability
Suitable for very dusty environment
Power Consumption: Less than 05 VA
Calibration possible from remote location
Shorter Probe Lengths
Applications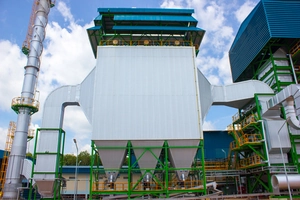 High-temperature process in cement requires a level measurement solution with better temperature endurance.
Clinker Cooler
ESP Hopper & Bag Filter Hopper
Limestone Silo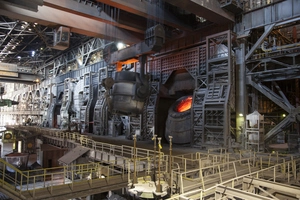 For the operator's safety, RF admittance level switch can be available with the evaluation unit installed at a distance of 50m.
Blast Furnace
Coke
Iron Ore
Sinter Ore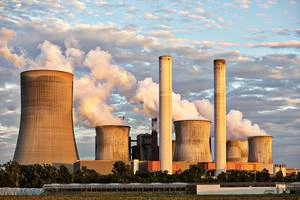 Power Industry
SLA Dot Display with heat sink is a profitable solution for the power industry to resist variable temperature.
Flux Coal Bunker
Coke Ovan Battery
ESP Hoppers
Find More
Help Articles

The designing principle behind the rf admittance level sensor and its comparison with RF capacitance level sensor.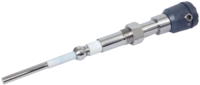 Availablility of different types of probes for admittance level sensor according to temperature and applications.

Detail information about the challenges of fly ash level detection and its purposed solution.
Downloads