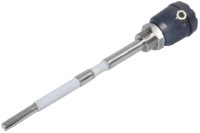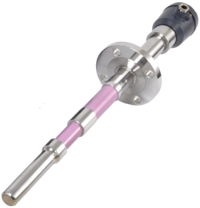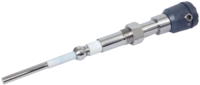 SLA_B: RF Admittance Type Level Sensor for High Temperature Solids
Item Code: SLA_B
Admittance Level Limit Switch (Use media such as cement, fly ash, ESP hoppers, powders, sand, sugar, pulverized coal, food grains)
Offer
Principle
The sensing element and the container wall (or ground electrode) form a means to measure the admittance of the system with and without the intervening material. When all the parameters that affect the admittance value are kept constant then its value changes only due to the difference in material level.The sensed signal is further amplified and used to actuate the relay.The relay contacts are used for alarm or control purpose.
Benefits
Power Supply: 24 V DC & 90-265 V AC
Fail-safe High/Low selection available as standard
Suitable for very dusty environment
High durability and system reliability
Applications
Rigid rod probe of the SLA bar display is used makes it usable in bulky solid application media in the cement industry.
Clay
Clinker Cooler
ESP Hopper & Bag Filter Hopper
Limestone Silo
Flameproof enclosure in high-temperature process ensures operation safety.
Blast Furnace
Coke
Iron Ore
Sugar Industry
RF admittance level sensor helps to detect coating on the level sensor probe in sticky or viscous materials.
Find More
Help Articles
Designing of admittance and capacitance-based level sensors can be easily understood with the help of this article.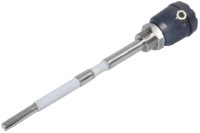 This article gives an idea about the various types of RF admittance level probes with variable temperature.
The problems occured during fly ash level detection and its level measurement solution.
Downloads