Stellar: Hydraulic Pressure based Level Transmitter
Item Code: STLR
Stellar - Pressure Based Level Transmitter(use in Fresh Water, Distilled Water, Fuel Oil, Lubricating Oil)
Application Temperature Range : 0°C to 70° C
Mass, Volume & Percentage Display
Password Protection: Security against tampering or unintended editing
USB ­ RS485 Interface: Easy calibration, easy configuration
Immune to turbulence: Rolling ­Pitching neutralizing algorithm
Enclosure : IP65 Weather Proof Housing
Offer
Principle
A RISC core microcontroller of the tank gauging hardware, utilizes the pressure to level information sent by the DPL sensor, and converts it faithfully to Volume and Mass depending on strap­-chart and density information provided in its configuration. 24 Bit ADC and 32 bit arithmetic along with spline curve based strap-chart evaluation algorithm ensures the true indication of volume and mass of the material inside the tank.
Benefits
Low Power Consumption: Less heat, long life; Maximum 2.4 watt
Latest RISC Core Micro-controller Technology
Measured Level is Displayed Continuously in terms of Level, Volume or mass according to strap chart and density entry.
Two Independent Potential Free relays providing flexibility of selecting two independent switch points.
Multipurpose 8 digit Seven Segment LED Display for best resolution and better viewing from distance.
Applications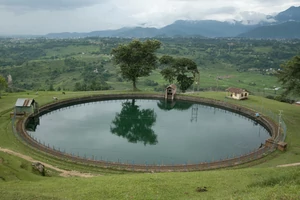 Stellar is used to measure the pressure level in water treatment plants.
Downloads