MPLOH: Differential Level Transmitter for Water Treatment Plants
Item Code: MPLOH
Loss of Head - Capacitance Based Switch (used in water treatment plants and filter stations)
Application Temperature Range : Up to 100°C
Latest RISC core microcontroller technology
Heads and Difference are measured in mm from -400 to 1500 mm
Full PTFE insulated sense
Enclosure : IP65 Weather Proof Housing
Probe length: 100 mm to 3m
Offer
Principle
The capacitance formed by sensing probe and water is measured, and it is directly proportional to the level of water known as 'Head'. By measuring heads at two points, namely 'High Head' and 'Low Head', their difference can be calculated. This difference is 'Loss of Head'. LOH sensor measures the heads in millimeters and thus calibration might be required on site. The two sensors digitally send their level values of head heights in digital format over the same set of wires. A shielded cable should be used to assure flawless operation.
Benefits
Multi-purpose 5 digit Seven Segment LED display for best resolution and better viewing from distance
-50.0% to +150.0% option is also provided for 4-20mA associated Head / Difference
Two independent potential-free relays, providing flexibility of selecting six combinations of switching
Supports as far as 1 KM distance between Sensor and Evaluation Unit with shielded two core cables
2-wire implementation solves problems occuring with other PLC 4-20 input interfaces, thus better suiting high-end automation.
Applications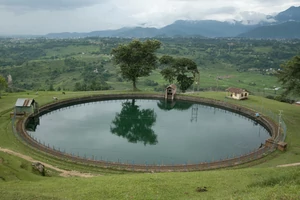 MPLOH is a justified solution for the water treatment plants to measure the differential level.
Sand Filters
Intake Open Channel
Downloads