Float & Board Type Level Indicator
Product Templates Item Code: MECH_FAB
Float & Board type level gauge is a weighing liquid level measuring system applicable for non-pressurized storage tanks/vessels. It is basically a balanced counterweight system with an arrow shaped pointer which smoothen the indication process. It is suitable for most liquid application media whose specific gravity is ≥ 0.8. Additionally, it effectively works in the phenomena of turbulence by ensuring stability using guided rope assembly with an anchor.
Installation available for Ground Level Tank, Overhead Level Tank and Underground Level Tank.
Wide Range Tank Height: Guided (up to 20m), Non-Guided (up to 8m)
Float Ø 280mm × 80mm (SS 316 with Tested Pressure 2kg/cm²)
Specific Gravity ≥ 0.8
Application Temperature Range : Up to 100° C
Adjustable Horizontal Pipe (500 to 1000 mm)
Wetted Parts : SS 316
Weatherproof Scale Board (SS 304 & Pure Polyester Powder Coated Aluminum)
Process Connection: Flanges
Radium Visibility from longer Distance
Operating Principle
The working principle of Float & Board level indicator is based on the buoyancy principle and is linked as per balanced counter weight system. float inside the tank and counter weight (scale pointer) connected by the rope wire which is moving freely on the pulley assembly. When the storage tank is in empty position, the float located inside the bottom of the scale pointer located at zero level on external scale. If the liquid level rise in the tank, the float move upper side and scale pointer move downward on the graduated scale to show liquid level inside the storage tank. If liquid level turbulance inside the tank use float guide rope wire assembly with anchor for stability of float.
Benefits

Lead Time
Manufactured and Stocked in time. Confirmed delivery times

Reflective Marking
Better visibility from a distance and in low light.

Variety
Variety of selection includes in 24 configuration.

PMI Tested
Positive Material Identification for assurance of the product.
Configurations
Float and Board level type indicator can be configured to the performance and installation requirement of an application. Aspects such as the continuous level pointer, anchor arrangement. Around 24 differrent configurations are available in Float and Board. Some major configuration options have been mentioned below: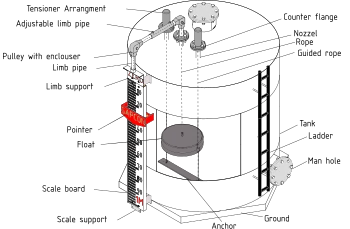 GUIDED: If Tank Height is Up to 20 meter then require guided variant.
NON-GUIDED: If Tank Height is Up to 8 meter then require non guided variant.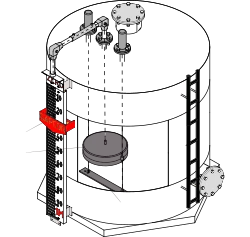 Ground Level Tank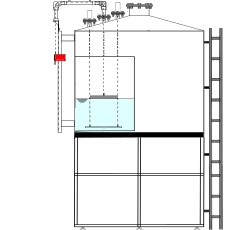 Overhead Tank x Scale mount at Tank Level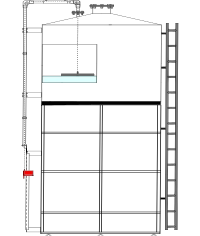 Overhead Tank x Scale mount at Ground Level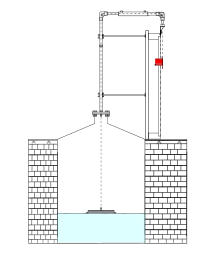 Underground Level Tank x Scale mount at Ground Level
Mechanical Specifications
Float : Ø300 × 75 mm
Material : SS 316L with Tested Pressure 2 kg/cm²
Scale Marking : Printed scale with black marking (cm) & radium red reflective marking (m)
Rope : Ø2 mm
Material : SS 304/SS 316
Anchor : Surface mount welded plate
Material : SS 316
Mounting Flange : 1".. 2" ANSI Standard /ANSI with 10 mm thickness
Material : MS with powder-coated/SS 304
Pulley Enclosure : SS 304/Mild Steel with powder-coated
Pulley Material : SS 316
Scale Board : 150 mm wide, weatherproof, Polyester based powder-coated Aluminium/SS 304
Pointer : Mild Steel with powder-coated /SS 304 Pointer with PP roller
Application
Water Storage Tank
Water is the very important part of human life. Water Storage Tanks are used to provide water for use in many applications like drinking water, fire suppression, and many more. Water storage tank helps with clean water distribution in rural areas. Float and Board liquid level indicator continuously measure the water level to maintain the accuracy of the water storage tank. Easy to maintain; Float and Board Level indicator is an ideal match for remote and rural areas with limited or no availability of electricity.