Photo Credit: Twitter
Reflecting how our sales cycle functions, it begins at the right time, well prepared in order to finish in time. Ready Steady GO GO GO..
Manufacturing Level Sensors
Industrial automation involves understanding a manufacturing process and developing automation around it. While most automation solutions are very specific to a particular manufacturing process; having a wide range of standard configurations helps our customers design their solutions without being limited by a select 'made-to-stock' configurations. Sapcon maintaines more than 400,000 standard level sensor configurations and manufacturing BOMs; it empowers the production team to take up manufacturing for a very wide variety of level sensors without having to wait for design clearance.
Customer Centric Level Sensor Manufacturing Cycle

Enquiry and Quotation: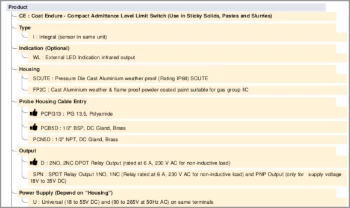 Selecting Correct Configuration: Level Sensor configuration involves selecting the right set of attributes of a level sensor for the end users application. Getting the configuration right plays a key role in the overall success of the automation process. A total of 38 configuration heads covering aspect of fitting (Mounting, Probe Length), application (Pressure, Temperature, Media) and certifications (Ingress Protection, Ex-proof, Intrinsic Safety), electric supply and finally ouputs(Relays, PNP, Current Output, RS-485 ..) . An online configuration option provides another easy to use option for configuring level sensors online.
GA Drawing: Knowledge of exact dimensions for level sensor are essential for building tanks and silos. For all standard 400K item configurations General Arrangment drawings with key dimensions are available automatically in our system generated quotations. A ready 3D visualization aids in the decision making a process of users with a wide level technical backgrounds.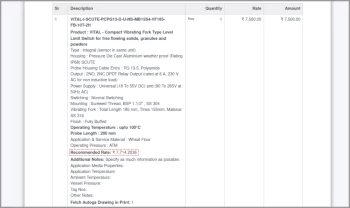 Price Recommendation
Price Recommendation: Prices are a function of raw material costs, manufacturing process and overheads. Our ERP generates pricing recommendations based on how our raw material prices and overheads change, this helps our sales team to quote without waiting for raw material pricing.
Finalization & Processing: The customer's order confirmation is the commencement of the manufacturing planning process. Payment, expected date, incoterms, and shipping details is concluded while confirming the order. Finalized order is forwarded to the production team to start the manufacturing process.
Production:
Assembly operations required for each order have been designed to be simple and reliable, helping our manufacturing team estimate completion of work orders with good accuracy.
Process Improvement A key aspect of our process is to review and improve our processes for achieving shorter turn around time and improving our quality.
Mechanical Production: Availability of raw material and sub-assemblies in stock helps cut down manufacturing time significantly. Stock levels for raw-material and sub-assemblies are maintained using automatically generated material requests, taking into account requirement based on past and predicted trends.
Electronics Production: Electronics modules are "made to stock" so as to decouple their longer lead times to affect the final product assembly. Agility in manufacturing updgraded versions and a strong backing by Reasearch and Development team helps cut down time-to-market for innovations made on top of our existing line of products.
After Sales Support & Service: After Sales Support and Service is a designated learning department at Sapcon Instruments. Feedback regarding our products and processes find their way to through our integrated Support System to Research and Development team. Site installation, calibration support and application support is organized and delivered with a human touch and relies on experience of our support team. Having a dealer network and providing user support in their choice of indian langauge is comforting to technician out in the field.