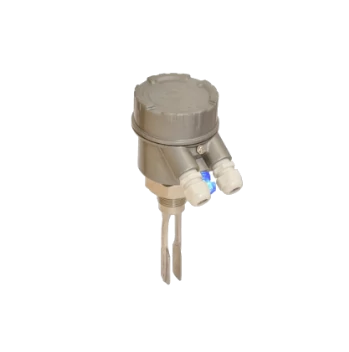 A compact liquid level sensor based on the tuning fork principle is a cost-effective solution with hygienic-pipe fittings & useful for all kinds of liquids. This tuning fork level sensor is used for point level detection in storage tanks, silos and pipelines to avoid overfill & dry run conditions.
Fork Level Sensor with Namur Output Intrinsically Safe design Ex-ia Certified

New

Universal Power Supply: 18 - 55V DC & 90 - 265V AC
Application Temperature Range : up to 200° C
Output: 8.2V Namur, SPDT & DPDT Relay, AS-i
Process Connection: Threads, Flanges and Tri-Clamp (Hygienic Connection)
ECTFE coated, polished & hygienic fork
Extendable probe length from 68 to 3000 mm
Certifications: Flame Proof Housing IIC, PESO, BIS, CCOE, EIL, Ex-ia
More details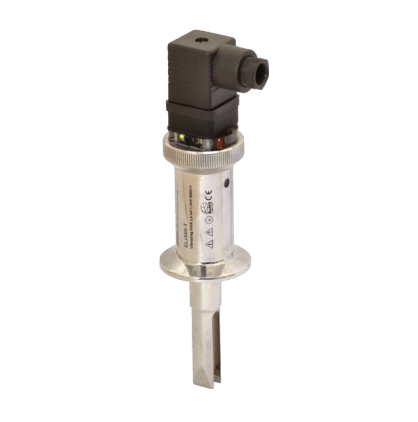 A compact fork type level switch based on a tuning fork working principle with a hygienic connection is useful for all types of liquids. This kind of fork is suitable for liquid level measurement techniques in process vessels, storage tanks, silos, hoppers, and pipelines to prevent overflow & dry run conditions.
Power Supply: 18-30 V DC
Output: PNP, AS-i bus Interface
Application Temperature Range: Up to 150° C
Certified EL Class I by EHEDG
Enclosure: IP68 Weatherproof
Process connections: Threads and Tri-Clamp (Hygienic Connection)
Wetted parts: SS 316, SS 316L with Hygienic finish (Ra < 0.8µ)
Compact probe length: 68 mm, 126 mm & up to 1000 mm
Certifications: EHEDG
More details
Clear filters
Product Type
Sensing Type
Application Media
Industry