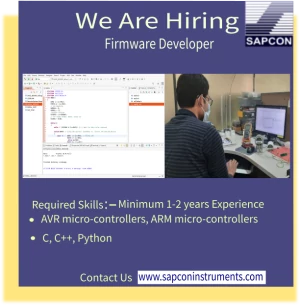 Embedded C - Firmware Developer in indore
Description
Firmware Developer is a challenging which involves nuances of writing reliable code. This job will involve following activities:
Firmware design and development for new products
Maintaining firmware for existing products
Investigation and diagnosis of errors
Required Skills
C, AVR micro-controllers, ARM micro-controllers, Modbus-Rtu protocol, I2C, UART, Analog Circuit Design, Hardware Debugging and testing. Experience with Zephyr RTOS is preferred.
Experience
Minimum 1-2 years in Industry in relevant field.
Salary
15K -25K gross p.m
Location
Indore, Madhya Pradesh
Apply Now